We moved to Highams Park roughly a year ago, just before our lovely baby was born. We wanted to be closer to family and were looking for a friendly place for the kids to grow up, certainly Highams Park ticked all the boxes. It also has a real community feel which I find very charming. I come from a very big city where this doesn't happen, so that idea of local people joining forces to create a better living space is all new for me.
The jumble trail taco stand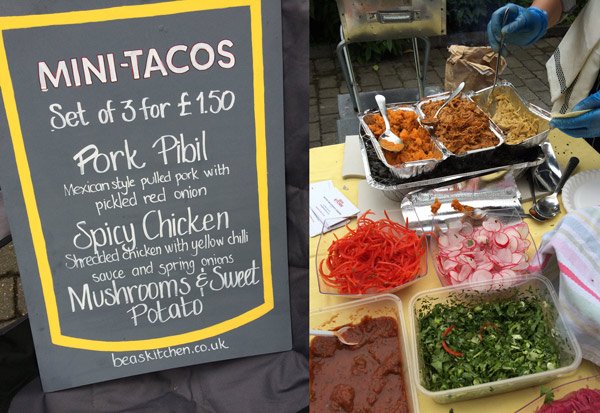 Wanting to be part of this community I decided to take part in the Jumble Trail last April. Due to the great response, I am now hosting a fine-dining pop-up, over two nights as part of the Highams Park Festival. For the occasion, I have carefully put together some of my favourite dishes from different parts of the world.
Starting with a refreshing amuse bouche, followed by a delicate cream of spinach velouté, the journey continues through to my own version of the iconic Ajiaco.
My take on Ajiaco
Ajiaco is a typical dish from my home city of Bogotá, Colombia. In the normal preparation it is a soup made with three or four different types of potato with chicken, capers, avocado, corn on the cob, and the most important ingredient: guasca. Guasca is a herb that only grows in the vicinity of Bogotá, it has a subtle flavour similar to mixing coriander and oregano. Contrary to what most people think, because Bogota is situated on a plateau within the Andes it is a cold city – the idea of a warming soup is very appealing! Hopefully the end of July here should be a bit warmer so i've taken all the flavours, minus the soup element and transformed the dish into something a little more modern.

The pop-up is taking place on the 23 & 24 of July 2015. There will be two sittings each evening at 7pm and 9pm.
I'm planning on creating more pop-up events in the future. If you'd like to know when these are taking place then you can sign up for my newsletter.
Keep me up to date with news and future pop-ups
In 22 & 23 June 2017 I will be hosting a new Supper Club. Tickets now available.